Celebrate Your Wedding Day With Picaboo Wedding Albums & Keepsakes
Your wedding is unique and deserves to be remembered. Preserve every perfect moment with a handmade wedding photo album from Picaboo.
Reliving your wedding through hundreds of photos on your computer isn't romantic. Curl up on your couch with your spouse and remember your wedding day through a beautiful, customized photo album. Choose from a variety of wedding photo book styles, sizes, and covers to make your album as unique as your love. Design your own wedding photo book with our easy-to-use software.
Check out our full collection featuring wedding essentials like Save the Date cards, Sign-in Books, and Thank You Cards. Decorate your new home together with Crystals and Canvas Wall Art Create your personalized wedding photo album and keepsake today!

Flush Mount Album
Expertly crafted with sophisticated details, the Flush Mount Album is an elegant choice for your occasion. Thick, ridged lay-flat pages, high-end cover options, and gilded pages add to the artisan quality that was once only available to professional photographers. Starting at $469.99.
Learn more.
Madison Album
Crafted with long-lasting quality, the Madison is for those special occasions that deserve the best. Many custom cover options featuring genuine leather and seamless lay-flat pages make this album a perfect choice to preserve your memories for years to come. Starting at $269.99.
Learn More.
Seamless Lay-Flat Photo Books
Accent each unforgettable moment. Perfect for the walk down the aisle, panoramas of the first dance and grand venue shots. Starting at $64.99.
Learn more.
Canvas
Printed on artist-style canvas and stretched over a wooden frame made from solid pine, our Canvas offers a unique backdrop to show off the beauty of your photograph. Starting at $79.99.
Learn more.
Photo Crystals
Make your memories truly last a lifetime when you convert your favorite picture into a stunning 3D photo crystal. The 3D engraved images appear to float inside the crystal and can be viewed from all sides. This makes an amazing wedding keepsake or anniversary gift. Starting at $129.99.
Learn more.
Save the Date Cards
Choose from one of our pre-made designs that are totally customizable. Or design your card from scratch using stickers, background colors, text and of course your photos. Starting at $1.29.
Learn more.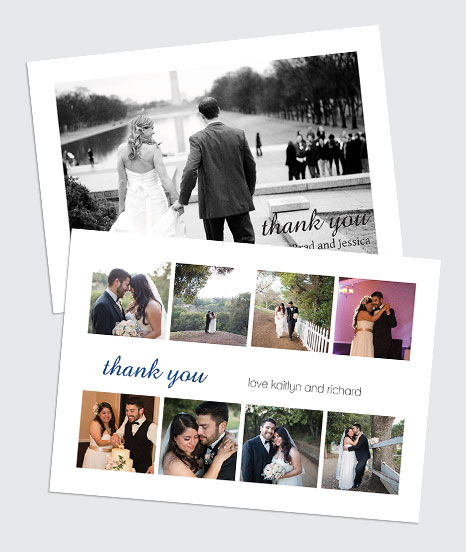 Thank You Cards
Say "Thank You" with an elegant personalized card printed on the highest quality paper with our signature and premium cardsStarting at $1.29.
Learn more.
Sign-In Ledgers
Create a custom wedding planning book or guestbook with our personalized ledger books. Each includes 160 blank lined pages, bound in a sturdy matte hardcover. Covers are fully customizable, front and back. Starting at $19.99.
Learn more.